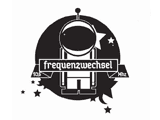 Frequenzwechsel was conceived as festival radio, connecting visitors, artistsand festival crew. As an alternative to the usual sound clash on the camping site we delivered  a common fm radio signal with music and information on what was going on for everybody, including the crews quarters and cafeteria. We also involved the audience by giving a platform to visitors to present their own musical projects and play as djs in our studio.

Those who didn't make it to the festival could get some festival-atmosphere at home by listening to our internet stream.
2005 Frequenzwechsel was on air for the first time at the SonneMondSterne-Festival. Resonance by both visitors and the internat audience (at peak times up to 400 people listeners!) was very positive. Motivated by our success we decided to keep streaming on a regular basis independently  on a biweekly basis.
The program emphasized on the presentation of elektronic music projects, especially from eastern germany, particularly (free) net music and related topics. The conten of these broadcasts was presented within the second assignment at the SonnMondSterne festival in 2006.
Frequenzwechsel Logo designed by Tobias Krotz
Tags: Audio, Festivalradio, Musik, Netzradio, Radio