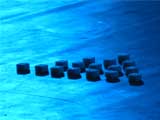 "The team of directors uses the drama as lynchpin for its contemporary discourse about the inertia of the past and the forceful supersession of the coming. With its camera man Felix Obée it presents a prime example for live video on stage along the way."
(Andreas Hillger, Mitteldeutsche Zeitung 24.01.06)

In Felix Ensslin and Brock Enrights production of Friedrich Schillers "The Robbers" the camera displays the subconciousness of the characters and the person in whose dream all things on stage happen. In the first part of the play, the screen is, partly explicit and partly on an abstract level,  stage for inner conflicts and phantasies.
Apart from doing the live camera on stage, I supported the directors in the conception of the video and by designing video scenes on and behind stage. I emphasized on giving the live video individual aesthetics far from common home video.
To work intuitively I modified my Panasinoc MV-GS400 with a cusom made handle, dimmable light and custom battery pack.
Tags: Kamera, LiveKamera, LiveVideo, Theater, Video