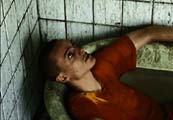 Video project in an old army base Nohra/Weimar

Dive! was created as a self-contained video project, a mixture of video production and installation. I wanted to visualize a text I had written about the characteristic of water to carry us without holding on to us. For the production I designed two rooms in an old russian army base to look as if they had been under water for a long time. In these rooms lay a person completely isolated from the world and its surroundings, wishing to have been born in a different element. A water surface from below was projected on the ceiling.
My intention was to have various photographers and camera men find their own perspective on the place and the situation I created. The so created material was supposed to be open for all participants for each to create their own work from it.
The fundamental idea of Dive! was also basis for my final university project and thesis Dive! II.
Tags: Installation, Video